Description
Uncompromised High Brightness
For perfect projection performance, MW855UST+ produces 3,500 ANSI lumens and WXGA 1280×800 high resolution for clear, sharp images and text even in large, bright classrooms. High brightness allows lights to be kept on during lessons, and the wide-aspect high resolution increases readability for expanded content.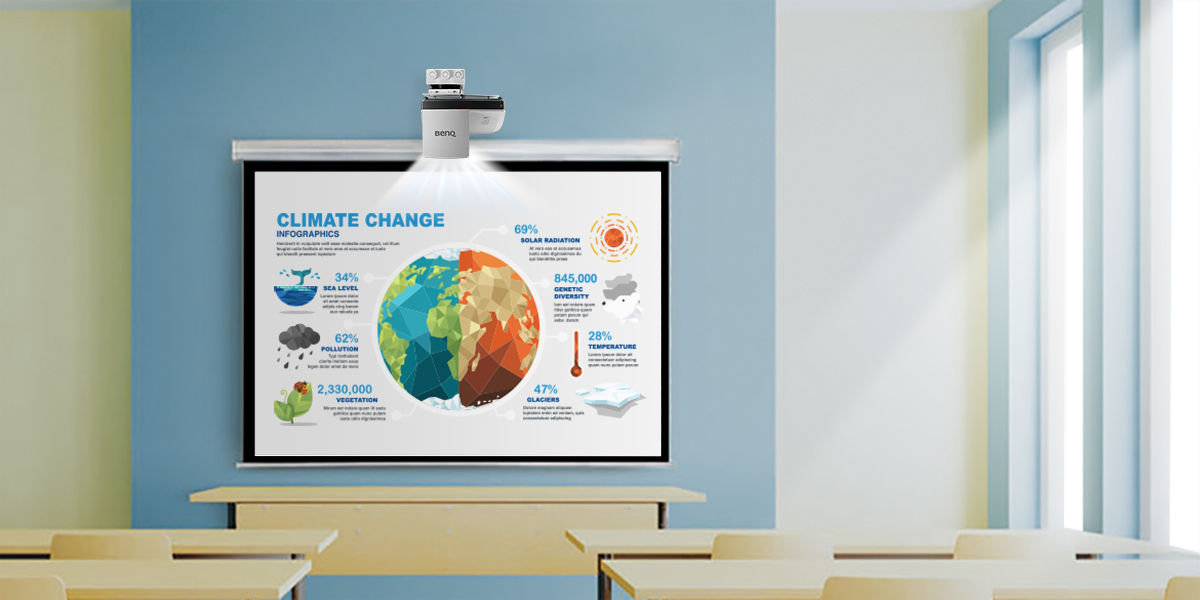 Unobstructed Instruction Without Space Constraints
Offering a big screen at a short distance with an ultra-short throw ratio, MW855UST+ eliminates distracting shadows and glare for students and teachers to engage and collaborate freely in front of the board.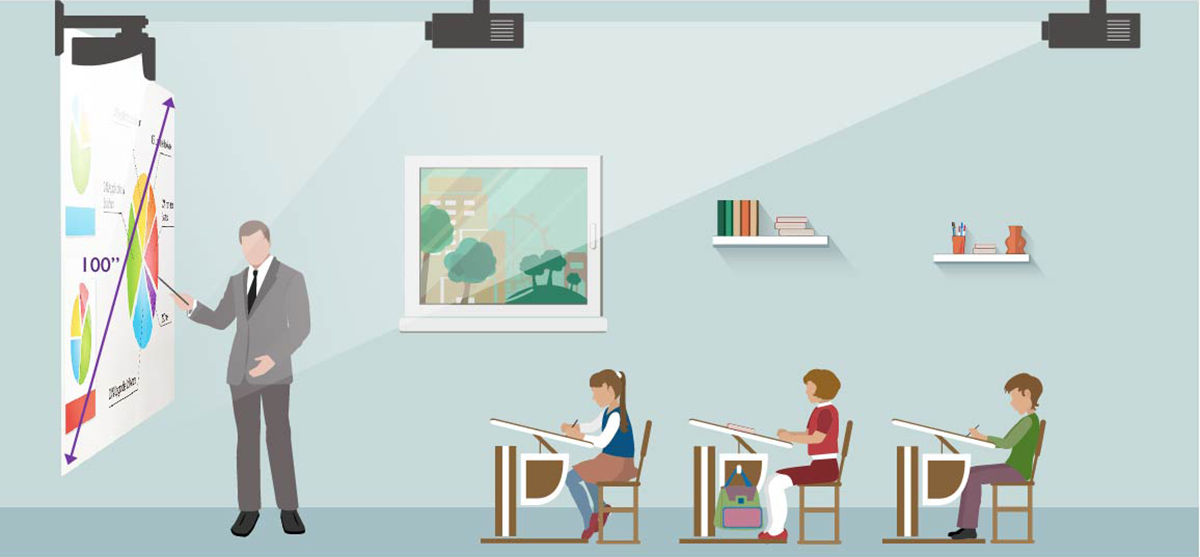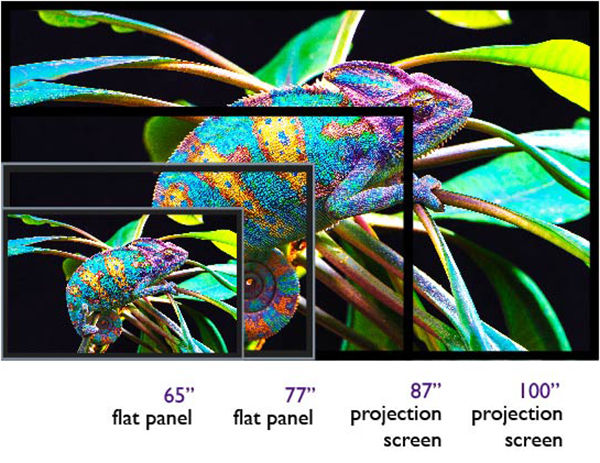 Bigger Images
BenQ education projectors offer a range of resolutions and projected image sizes to meet diverse classroom needs. Featuring crisp image quality up to 100 inches, our ultrashort throw education projectors deliver increased classroom versatility at reduced costs.
Expanding Classroom Possibilities
Multi-touch with Pens and Multi-Screen Drawing on Any Surface
PointWrite™ technology works on any flat surface, so no expensive digital whiteboard or additional equipment is necessary, thus creating vast new opportunities for classroom interactivity and enabling possibilities for modern digital classrooms.
PointWrite™ projectors offer multi-user capability, and two PointWrite™ projectors can be used to double the projection surface.
With QWrite* Whiteboard Mode, teachers can run different applications or display, view, and annotate across two screens.
* BenQ exclusive annotation software QWrite™ is compatible with BenQ PointWrite™ module.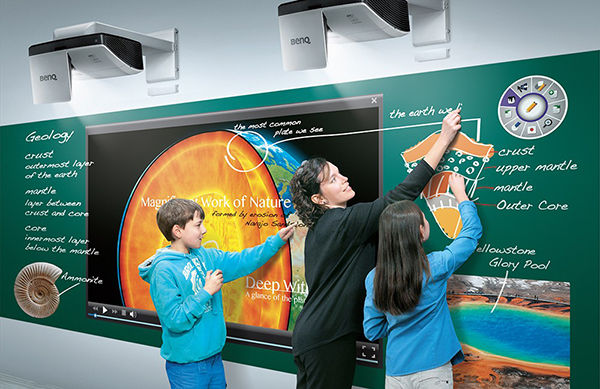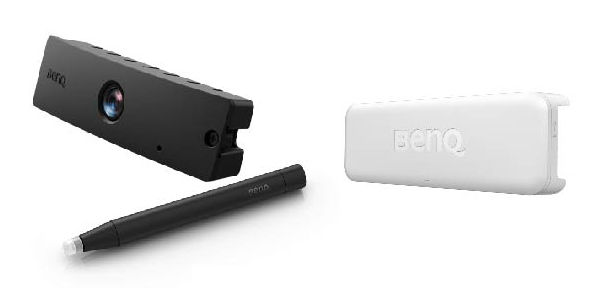 Scalable Interactive Module Compatible
A modular design allowing schools the flexibility of adding interactivity to classrooms with future investment, the new BenQ PointWrite™ interactive module PW30U provides truly collaborative learning environments where students and teachers work together using intuitive templates along with QWrite™ software, all with one-time calibration and set-up driver installation conveniences.
* PW30U and PT20 are optional interactive modules for MW855UST+/ MH856UST+
Intuitive Setup
PointWrite™ automatically calibrates and saves its settings the moment it is plugged into a computer's USB port. PointWrite™ then remains ready without any manual configuration or complicated training given to the teachers. Additionally, MW855UST's interactive sensor guarantees reliable auto-calibration in any ambient lighting.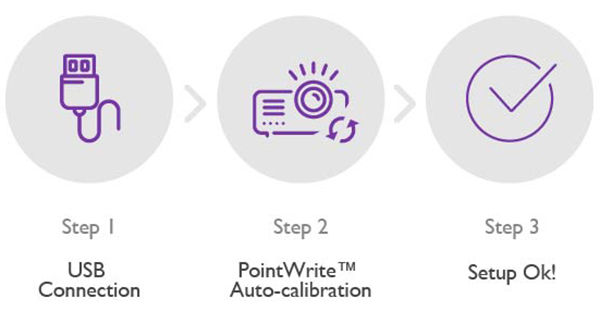 Making Collaboration Easier with BYOD
Create Interaction on Any Surface
For engaging and intuitive lessons, teachers and students can bring their own smart devices and computers to mirror documents, images, videos to MW855UST+ projectors, facilitating the free exchange of ideas and collaborative teamwork.
*MW855UST+/ MH856UST+ are compatible with optional QCast Mirror dongle.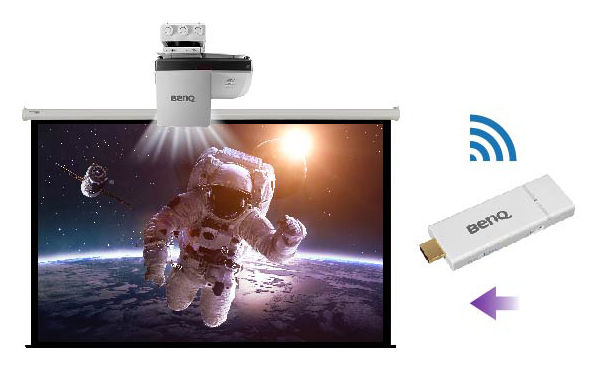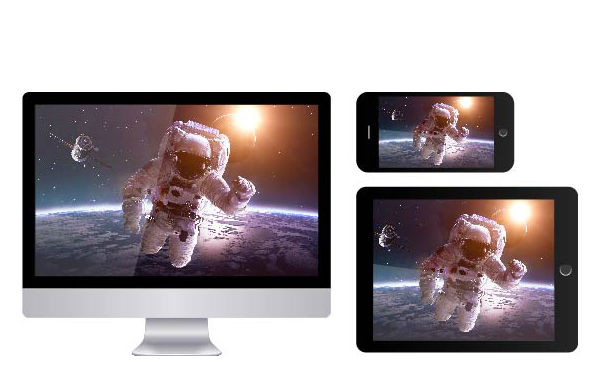 Facilitating Smart, Efficient Projector Maintenance
Control System Compatibility
MW855UST+ is widely compatible with leading projector control systems including Crestron, AMX, PJ Link, and Extron* IP Link for network control via LAN, making it simple to integrate into educational network infrastructures. MW855UST+ also supports RS-232 for reliable long-distance Installation up to 15 meters when there is no LAN infrastructure.
*Developed by Extron, the IP Link driver allows device monitoring, control, and support over LAN when a MediaLink controller, IP Link Ethernet control interface, or other IP Link-enabled device is installed. For more information, please visit www.extron.com/driverdownloads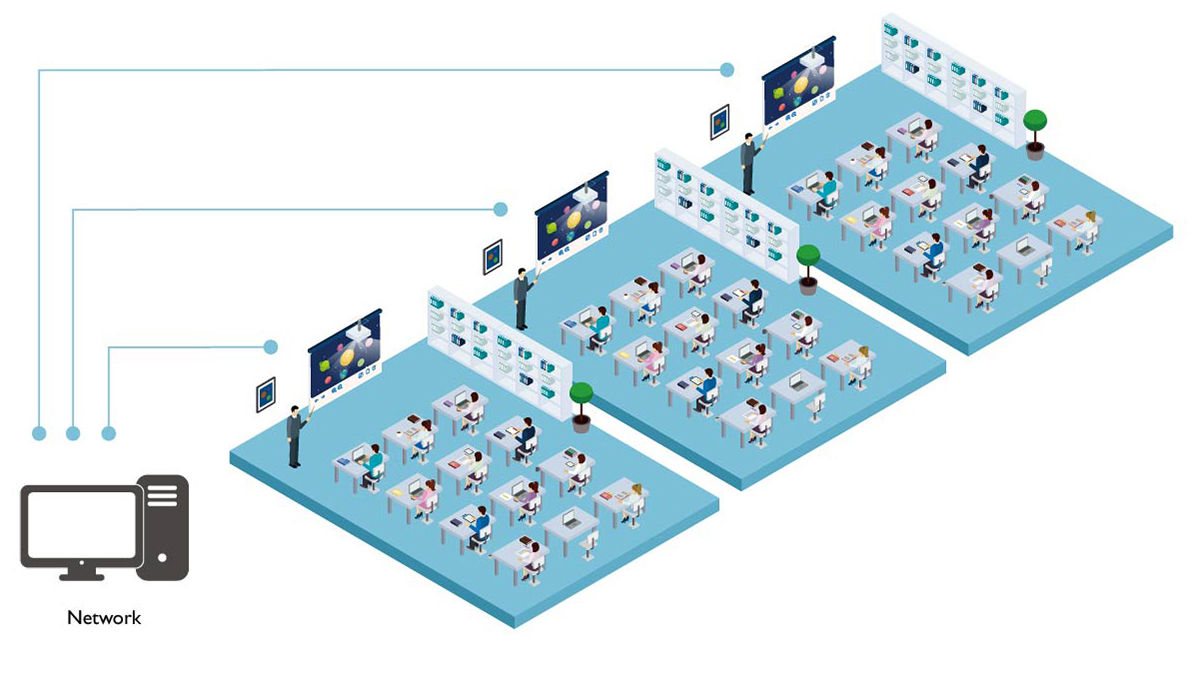 Centralized Upgrade Application
Administrators can centrally upgrade the firmware on the M85+ BenQ projector that is on the same local network via LAN.
*For more information about the tool, please contact BenQ service.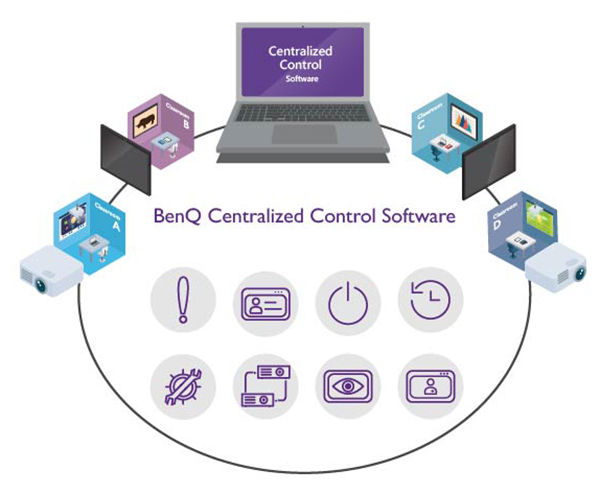 Centralized Control with BenQ Software
BenQ centralized control software is a management tool for computers that enables remote and centralized management of multiple digital projectors by IT administrators/technicians via a local network. The management capabilities include the ability to remotely monitor, control, and configure projectors individually or as groups.
Lens shift offers the extra flexibility to compensate for any minor miscalculations during installation. All you have to do is adjust the switch to shift the projected image up or down by 2%, which greatly helps you to accommodate specific installations.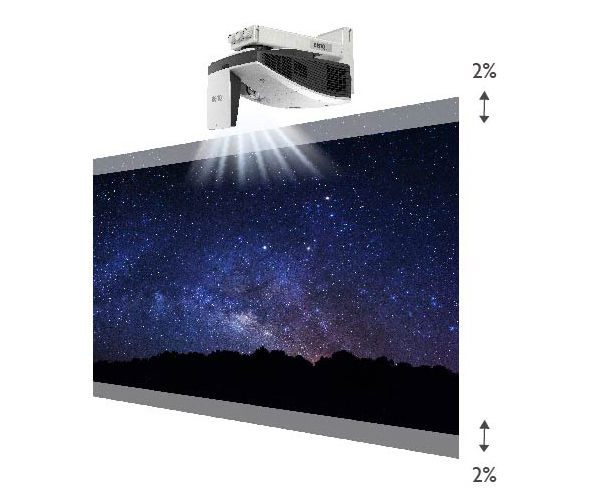 Clear Images without Distortion
Digital Shrink and shift for Effortless Display Adjustment
Digital Image Shrinking and Shift lets installers shrink the image via the OSD menu. The image can also be shifted, so installers do not have to reinstall or adjust the projector physically in case the image is not precisely aligned on the desired frame and space.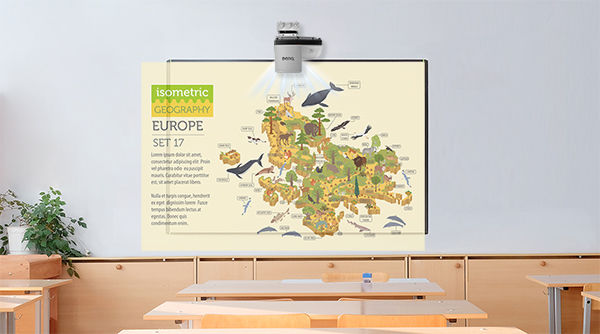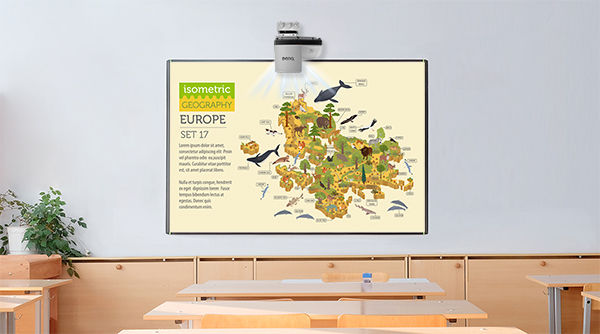 Corner Fit Correction
Corner Fit provides individual adjustment of each corner for perfect fit and alignment onto restricted or uneven spaces.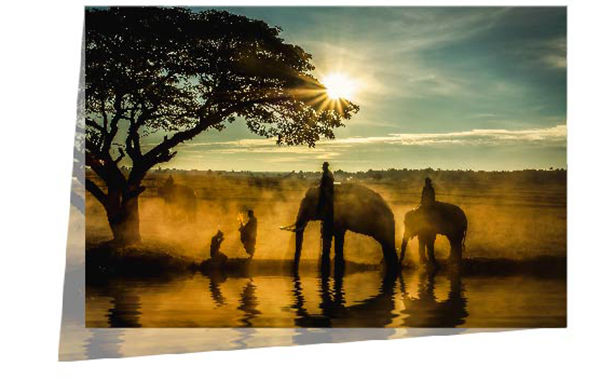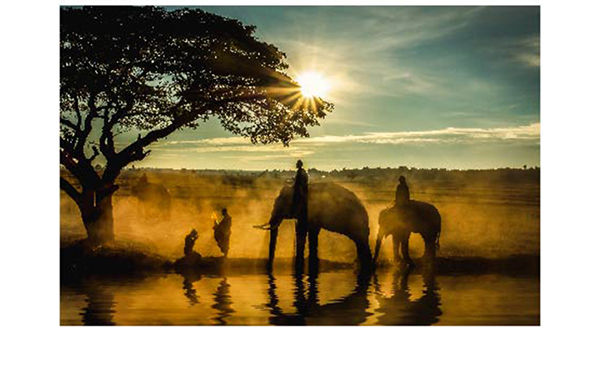 Streamlined Wall Mount Alignment
For efficient professional installation, our ultrashort throws projector wall mount features an installation chart and ruler for perfect screen alignment and image position in the classroom. Even simpler, a three-way adjustment knob is located in front of the projector for cleanly installed, absolutely square screens.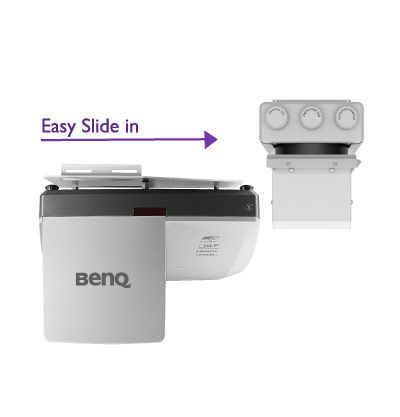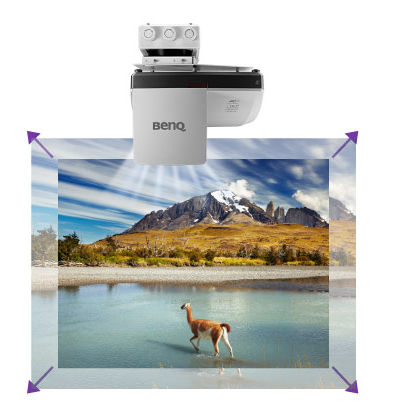 Optimizing Educational Investment
Anti-Dust Accumulation Sensor Resists Dust Buildup
Incorporating color wheel sensors with an ingenious anti-dust accumulation feature, BenQ education projector prolongs optimal performance by rejecting dust which can accumulate on traditional sensors to block the IR signal and cause flickering, abnormal colors, or even shutdown.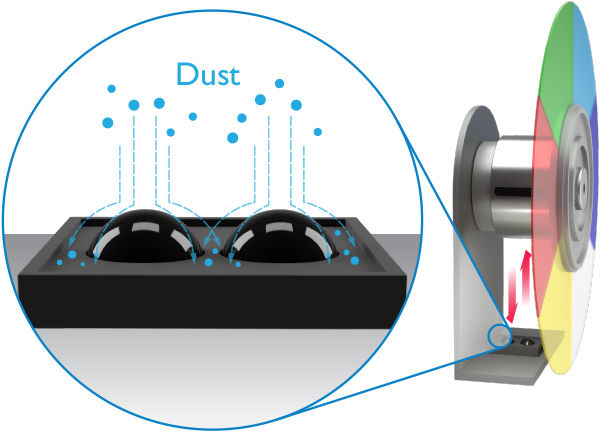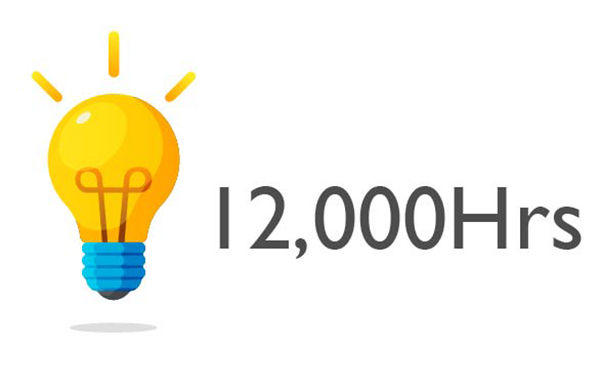 Optimized Lamp Life and Energy Savings
Fewer lamp replacements and less maintenance translate into an overall lower cost of ownership. The LampSave Mode achieves this by adjusting the lamp power dynamically by content level to help save up to 70% lamp power consumption and extend projector lamp life by up to 50% compared to normal mode.
Enduring Picture Perfection from the World's No.1 DLP Brand BenQ
Unmatched Readability
With industry-leading high contrast, BenQ education projectors utilize advanced DLP-optimized optical lens systems to provide precise readability and crisp resolution for every single sub-pixel.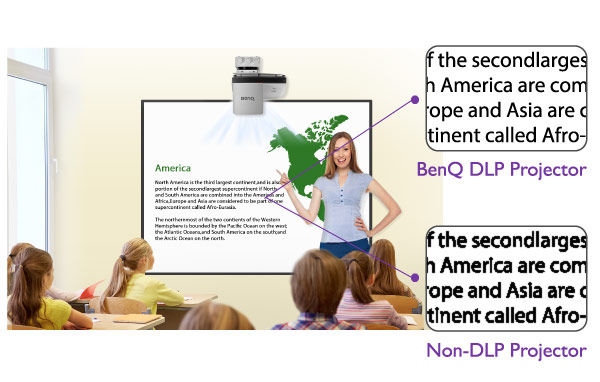 Long-Lasting Picture Quality
With industrial-grade durability from DLP technology, BenQ education projectors maintain long-lasting picture perfection by eliminating color decay. Unlike non-DLP projectors, BenQ DLP education projectors become equivalent to brand-new ones after lamp replacement. And with over two million micromirrors and minimal heat buildup, the DLP chip endures over 100,000 hours without degradation.